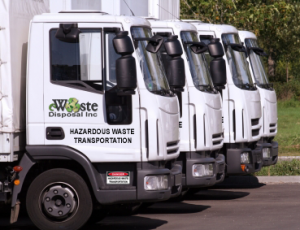 "As we become more dependent of environmental issues such as hazardous waste or oil transportation, in order to make life more convenient it is wise to utilize a firm who shares your same ideals regarding safety and compliance"
 

e

Waste Disposal, Inc
Providing the Western United States and Southern California with all of the necessary services to ensure cost effective and environmentally compliant hazardous waste transportation and Hot Asphalt Transportation.  We are a certified disabled veteran owned enterprise DVBE ( State of California) and a certified a SDVOSB (federal certified) firm, in the business of hauling all types of waste hazardous, purchasing, supplying and transporting hot asphalt oil.
You as a Prime contractor will be in complete and total compliance on any project requiring a DVBE firm throughout the United States by teaming with our Commercial Useful Function, hard working and certified firm.
eWaste Disposal is short for Environmental Waste Disposal, as a certified disabled veteran owned firm we want to team up with prime contractors for the Federal and state bids that require hazardous waste transportation and the purchase of hot asphalt oil:
1) Hazardous waste transport: Click Here
Lead, contaminated soil, mastics, solid waste and asbestos
2) Bio waste transport: Click Here
Sharps, needles and medical waste
3) Hot Ashphalt Oil: Click Here
Hot asphalt supplier and transport to the industry

---
e

Waste Disposal, Inc's Written Environmental Statement
DVBE certified hazardous waste transport, provides comprehensive waste management services, specializing in transporting, disposing and recycling of hazardous waste. Lab packing and site clean up, waste oil, antifreeze and oil filter disposal, regulatory agencies reports, storage and waste management supplies, drums, totes, roll-off and absorbents. Bio waste, poisonous and infectious transport is also available.
Supplying and Transporting Hot Asphalt Oil
Our EPA number is CAR000213637 and our hazardous waste hauler number is 5948. We are DOT approved, our California Motor carrier permit is CA0423830. We have our 40 hour Hazwoper trainng.
We are dedicated to environmental issues to help industries and prime contractors recycle their hazardous wastes, preserve the environment and avoid the inherent long-term liability of landfill disposal. Services also include flammable disposal, paint disposal, soil disposal, RCRA, non RCRA waste streams.
eWaste Disposal, Inc's Solutions
eWaste Disposal, Inc strives to reuse and recycle through a vast network of experts and facilities. When disposal or incineration are necessary, advanced waste profiling, lab-packing and manifest preparation assure state and federal regulations are met. Working with a large number of TSDF's (Treatment, Storage and Disposal Facilities), recyclers, and field chemists, eWaste Disposal, Inc is your total source for waste management.
eWaste Disposal, Inc can handling all aspects of hot ashpalt oil supply and delivery. When it comes to choosing a partner who can meet a wide range of recycling, industrial waste management oil transport and remediation needs, we are that company.
---
---
Business and Government information click here
EPA Licensed and Insured Hazardous Waste Transport Company
You are welcome to download our:
Licenses Permits and Insurance